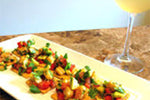 Ingredients: 1 Ripe avocado – peeled and pitted 2 Plum tomatoes – each sliced into 9-slices 1-tsp Chunky salsa per cracker  Directions: Cut avocado into 18-slices. Top crackers with tomato, avocado, and salsa just before serving. Serves 6-8.  Tip: Mash avocado. Mix with approx. 1/3 cup salsa in a small bowl before serving. 
---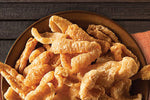 1 Package of Saltine Seasoning 1 16 oz package of Pork Rinds 3/4 cup of Canola Oil Follow the rest of the Savoy Saltine Seasoning directions and you will have a great anytime snack!
---
Ingredients 3 tablespoons butter 1 can (15 to 16 ounces) mixed nuts 1/4 teaspoon Worcestershire sauce 1/2 package of Savory Seasoning Directions In a large skillet, melt butter over low heat. Add nuts and Worcestershire sauce; cook and stir 5-7 minutes. Drain on paper towels. Place nuts in a large bowl. Sprinkle seasoning over nuts, tossing to coat. Cool. Store in an airtight container at room temperature.