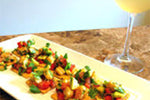 Ingredients: 
1 Ripe avocado – peeled and pitted 
2 Plum tomatoes – each sliced into 9-slices 
1-tsp Chunky salsa per cracker 
Directions: 
Cut avocado into 18-slices. 
Top crackers with tomato, avocado, and salsa just before serving. 
Serves 6-8. 
 
Tip: Mash avocado. Mix with approx. 1/3 cup salsa in a small bowl before serving.