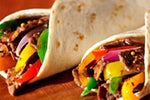 Ingredients: 
1 pkg. Savory Saltine Seasoning Mix 
2 Tbs. Olive oil 
1 Tbs. Water 
1½-2 lbs. Beef flank steak, cut into ½" strips 
3 cups Assorted red and green bell pepper, and onion strips 
4-10 inch Flour tortillas, warmed 
Fillings: Chopped tomatoes, cheese, chopped onion and pico de gallo. 
Directions: 
Combine seasoning mix, oil and water. Sauté steak strips in mixture. 
Add peppers and onion. Cook until tender crisp. 
Fill tortillas with mixture and fillings. Serves 4.