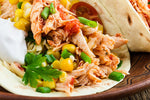 Ingredients:
3-4 boneless skinless chicken breasts
Chicken Broth
1 Package of Savory Saltine Seasoning (Original Flavor or Texas Chipotle for more spice)
Instructions:
In a crockpot, place chicken breasts in the bottom.
Cover chicken with Savory Saltine Seasoning.
Add enough Chicken Broth to cover chicken (1-2 cups).
Cook on low for 4-6 hours, or high for 3-4 hours.
Shred the chicken with a fork and serve with your favorite taco toppings.
Options:
Add chopped green chillis, chopped onion, corn,  bell peppers or diced tomatoes for more flavor.
Serve as soft or crunchy tacos.
Add more chicken broth to recipe to make Taco Soup.