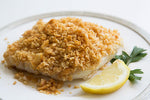 Ingredients:
2-4 Tilapia Fish Fillets
3 tablespoons melted butter
Savory Crackers – approx. 30
Directions:
Heat oven to 400°.   Lightly grease a large shallow baking dish.
Crush the Savory crackers in a zip top bag until they look like coarse breadcrumbs.  Mix the melted butter and cracker crumbs together in a bowl.
Arrange fish on the baking pan. Sprinkle the crumb mixture over the tilapia fillets.  Pack the crumb mixture over the top and sides of the fish fillets.
Place in the oven and bake for 20 minutes, or until the fish flakes easily. (Thin fillets may take less time, very thick fillets may take longer.)
Recipe Varieties:
Substitute tilapia for your favorite white fish.  Also works great on chicken, but cooking time will increase.
Crumb coating can be adapted by adding your favorite herbs.
More crackers and butter mixture can be used for thicker coating.
For a more breaded crust:  Beat an egg and dip fish in egg before topping with cracker crumb mixture.