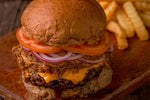 Ingredients:
1 Sweet Bar-B-Q Seasoning Package
1 3 pound Pork Roast/Butt/Shoulder (you can use larger or smaller amount of pork)
1 cup water
Directions:
Add pork to the crock pot and cover with BBQ Seasoning package and cup of water. Cover with crock pot lid and cook until meat easily shreds.  (Approx. 4-6 hours on high or 6-8 hours on low.)  Use 2 forks to shred the pork and mix with the sauce.
Serving suggestions:  Serve pork on sandwich buns, use as baked potato topping, serve with coleslaw, serve as taco filler.  For less spicey option, add brown sugar or use less seasoning.