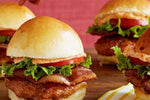 Ingredients:
Chicken and Marinade:
1/2 cup vegetable oil
2 tablespoons Worcestershire sauce
2 teaspoons Savory Seasoning
3 cloves garlic, minced
Juice of 1 lemon
1 onion, chopped
Kosher salt and freshly ground black pepper
8 thin-cut chicken breasts, halved and flattened
8 Cheddar slices, halved
Sandwich Bar Fixings:
1 cup honey mustard
1 cup pico de gallo
8 cooked bacon slices
2 tomatoes, sliced
1 red onion, sliced
16 slider rolls
Directions:
For the chicken and marinade: Mix up the oil, Worcestershire sauce, Savory Seasoning, garlic, lemon juice, onions and some salt and pepper in a bowl and pour into a resealable plastic bag. Add the chicken to the bag and marinate for at least 2 hours and up to 4.
Twenty minutes before cooking, fire up the grill.
For the sandwich bar fixings: Set out separate plates or bowls of the honey mustard, pico de gallo, bacon, tomatoes and red onions.
Grill the breasts for 2 to 3 minutes on the first side, then turn. Lay half a slice of cheese on each breast and grill until cooked through, a further 2 to 3 minutes.
Serve the chicken with rolls and fixings and let everyone build their own sliders.