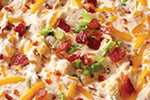 Ingredients:
16 oz. Sour Cream
2 cups Colby/Monterey Cheese Grated
3 oz. Bacon Bits
1 Green Onion finely chopped
2-4 oz. Can Mild Green Chillies (Optional)
1/2 pkg. Savory Saltine Seasoning – Texas Chipotle flavor
Directions:
Mx ingredients together and chill for at least 1 hour.
Great served with crackers, chips, bagels or as a spread.