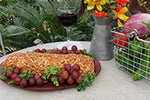 Ingredients
2- 8 oz. Softened cream cheese
3-cups Shredded sharp cheddar cheese
1-tsp. Worcestershire sauce
1-pkg. Original Savory Seasoning
1 Dash of Tabasco sauce (optional)
Directions:
Mix Cream Cheese, Worcestershire Sauce, Cheddar Cheese, Original Savory Seasoning, Tabasco and
blend well.
Form a log or a ball. Coat with chopped nuts, bacon or cracker crumbs.
Cover and chill for 1-hour or more before serving.
Variations:
Roll into a shape to celebrate certain occasions – football, pumpkin, egg, heart shape.