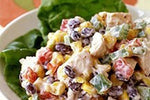 Ingredients: 
½ cup Light sour cream 
2-Tbs Thick and chunky salsa 
2 Tbs Original Savory Seasoning 
1 ½ cups Chopped cooked chicken 
1 cup Frozen corn-thawed 
¼ cup Pitted sliced black olives-sliced 
1-sleeve Savory Saltines (30-40 crackers)
Directions: 
Mix sour cream, salsa and Savory Saltine Seasoning in a medium bowl. 
Add chicken, corn and olives; mix lightly. 
Cover and refrigerate until chilled. Serve with Savory Saltine Crackers. 
Tip: Purchased rotisserie chicken makes this chicken salad quick and easy.