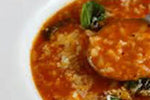 Ingredients: 
2 cans Low sodium chicken broth (14 ½ oz. each) 
1 cup Tomato or V-8 juice 
3 Tbs Savory Saltine Seasoning 
12 oz. Fresh or frozen broccoli – chopped (thawed and drained if frozen) 
1 cup Cooked rice 
 Savory Saltine Crackers 
Directions: 
Dissolve Savory Seasoning in a small amount of water. 
Mix broth, tomato/V-8 juice, broccoli and Savory Seasoning in a large saucepan. 
Bring to boil and simmer 5-minutes. Serve with rice and Savory Saltine Crackers. 
Suggestion: For a heartier serving, add some cooked chicken.