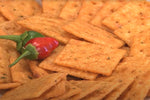 No Bake…Simple to Make!

1 package Savory Saltine Seasoning
1 2/3 cups of Canola Oil
4 sleeves of Premium Saltine Crackers
A 2 gallon zip top bag
This video is a more detailed "How To" demonstration.
Please Note:  The measurement of oil in this video is different from what we currently recommend for 1 package of seasoning.
Combine Savory Seasoning and Canola Oil in a 2-gallon zip top bag and mix well.  (The mixture will look similar to a bar-b-que sauce.)
Add crackers and seal bag (leaving as much air as possible).  Toss crackers in bag every 5-10 minutes for one hour to evenly coat crackers, or until Savory Seasoning is absorbed.
Once the crackers have been evenly coated with the mixture, allow the crackers to sit in the 2 gallon bag overnight.  This will allow time to absorb all the flavors.  The bag may still contain a lot of seasoning mix on the inside.  As tempting as it is, try not to open the bag during this time as oil gets on the zip top and makes it harder to reseal.
The next day, remove the crackers from the original mixing bag and they are ready to serve.  If you aren't serving them immediately, you can transfer them to another air tight container.
The crackers should stay fresh for close to two weeks.  Refrigeration will help extend the freshness.  You can freeze crackers and save for later.